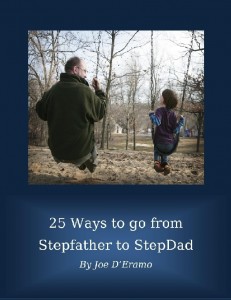 About 25 Ways to go from Stepfather to StepDad
With blended families becoming more and more the norm, saying "I do" for many men means not only becoming a husband, but a father as well. Instantly. While you may have enjoyed your relationship with your now wife's children during the courtship, it's a whole new ballgame as a stepfather. 25 Ways to go from Stepfather to StepDad offers some helpful suggestions for soon-to-be or newly married men who are becoming husbands and fathers for the first time.
Written by Joe D'Eramo, a first-time husband and father at the age of 40, it provides some do's and don'ts on how to be a "Dad" without becoming a pushover or losing credibility as an authority figure. In addition to helpful suggestions, the book also offers insights into interactions with your wife's ex, parenting as a team activity, how to ease your stepchildren's transition to having a new little brother or sister, your in-laws as allies, and how, no matter what your upbringing you know far more about parenting than you're giving yourself credit for.
25 Ways to go from Stepfather to StepDad is a regular guy's look at how you can embrace the challenge of parenting and make it the most rewarding experience of your life.
If you would like to know more about what you're buying, check out the right up below. Thank you, in advance, for your patronage.